#popculturerobots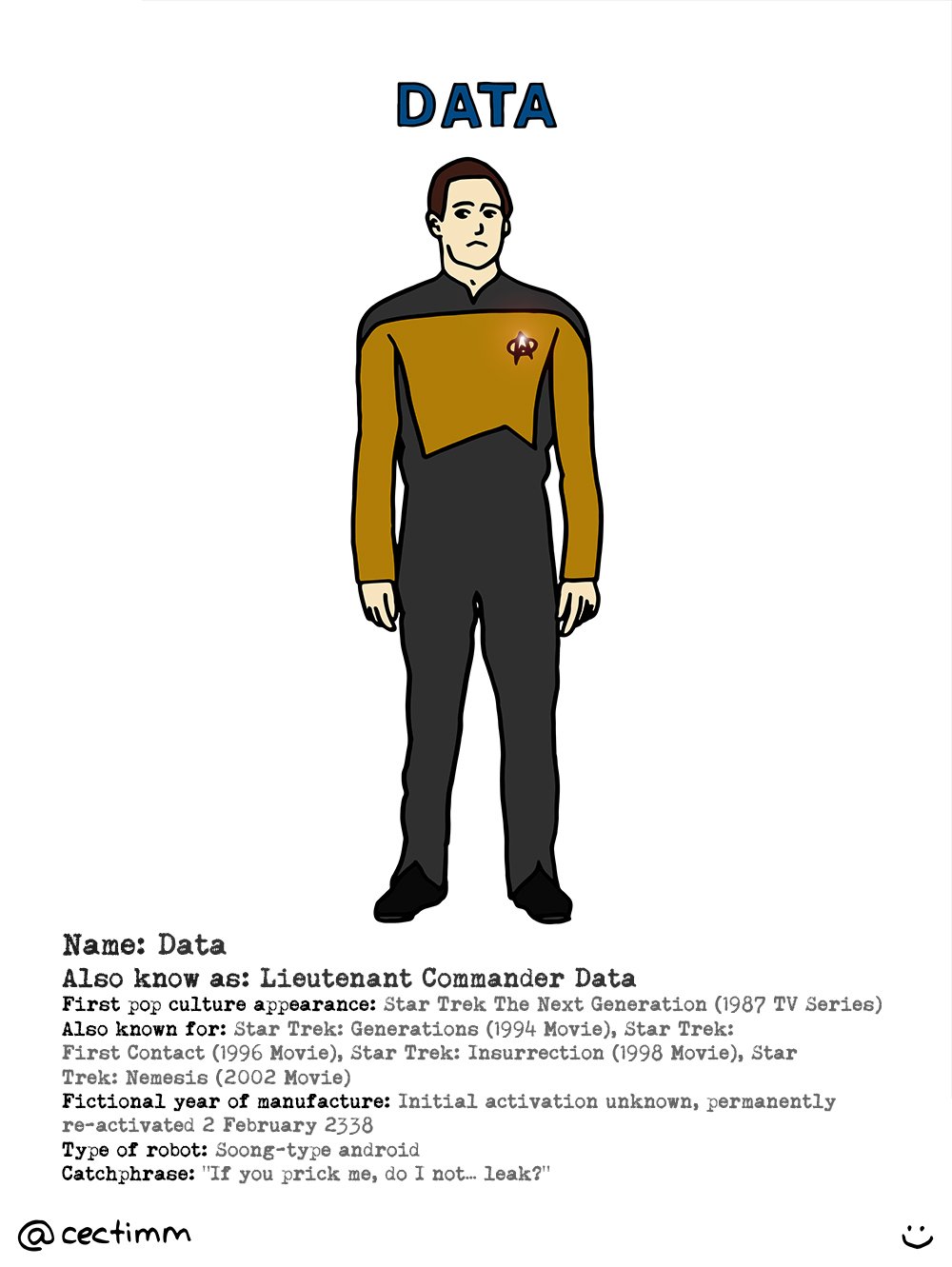 When I first came across
Star Trek The Next Generation
on late night TV in the early 90's I fell in love with the show and the awesome characters, including 
Lieutenant Commander Data
 (an artificial intelligence and synthetic life form). During the series and the subsequent movies, Data wanted to become human but he struggled with human idiosyncrasies. He eventually installed an "emotion chip" and developed sensitivity, compassion and eventually put the needs of others above his own. Thankfully, Data appeared in all of the Next Generation movies, however I think we have seen the last of him as this franchise is well and truly over. If you haven't already watched it then I recommend you do... it's a bit dated by now but it's just old enough to be retro cool. He does live on in a small way with his many quotes becoming animated gif's and memes.
"I chose to believe that I was a person, that I had the potential to become more than a collection of circuits and sub-processors." - Data
"If you prick me, do I not... leek?"
[youtube id="2j8kUXxxStA" maxwidth="1000"]
Pop Culture Robots, a Historical Study
is an anthropological review of the robots that have graced the pages of our comic books, entertained us in novels and dazzled us on many different types of screens in recent human history. I will be publishing 15 robot profiles over the coming weeks. Feel free to share on social media (please link back to my site). Get in touch via
Twitter
,
Instagram
or by 
email
:) [su_button url="/my-work/pop-culture-robots/" background="#fc1581" size="5" icon="icon: plus-circle"]See ALL #PopCultureRobots[/su_button] [su_button url="/blog/pop-culture-robots-a-historical-study-optimus-prime/" background="#fc1581" size="5" icon="icon: arrow-circle-right"]See the NEXT #PopCultureRobots[/su_button]