#popculturerobots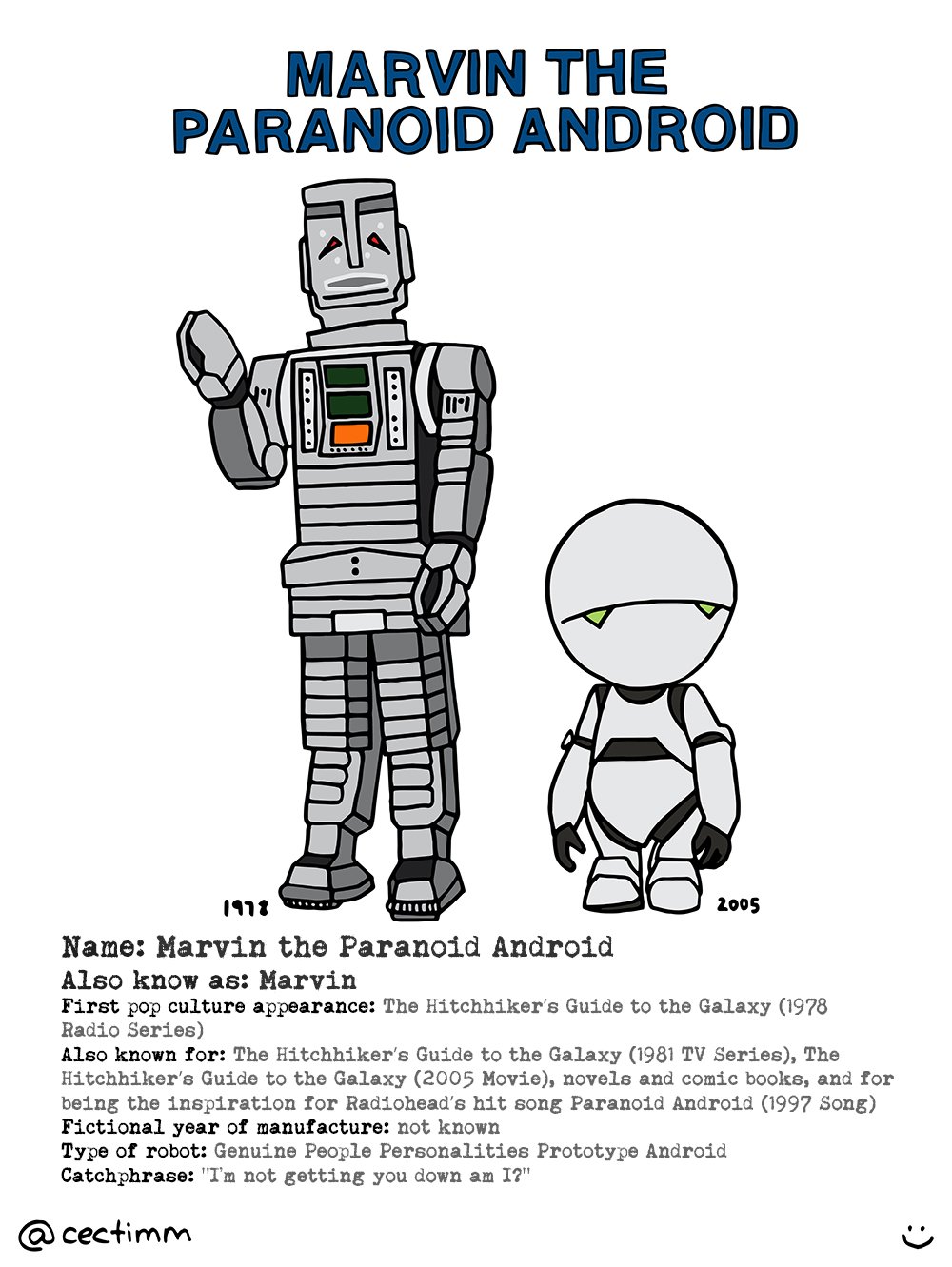 [caption id="attachment_2820" align="alignleft" width="300"]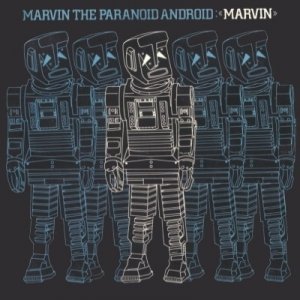 Album artwork for Marvin's 1981 music debut[/caption] Marvin the Paranoid Android is a ship's robot aboard the starship
Heart of Gold
in
Douglas Adams's
classic series
The Hitchhiker's Guide to the Galaxy
(1978), a radio show that was originally broadcast on BBC Radio 4 in the United Kingdom. The series was hugely popular and was later made into a TV Series (1981), a series of novels, a computer game, music releases and a big blockbuster movie (2005). Marvin was originally a failed personality prototype who suffers from severe depression and boredom, in part because his brain is so big, in fact he has a "brain the size of a planet". Apparently Marvin is 50,000 times more inelegant than any human and 37 times older than the universe (due to time travel). The 1978 vision of Marvin was a tall humanoid robot with a large square head but he was reimagined for the 2005 movie. In the movie he was short and stocky with a giant round planet-like head. I love both incarnations of Marvin... but perhaps I prefer the movie version just a little bit more :P .
"I ache, therefore I am." - Marvin
Marvin is racked with depression and suffers incredible pain due to the diodes on his left-hand-side never being replaced. His brain is woefully under-utilised and he occasionally writes music... in his track <<Marvin>> he references his pain with the lyrics "
Nothing left to be enjoyed, every diode rheumatoid, Marvin.
" Listen for yourself... [youtube id="hTXOW_jJdKE" maxwidth="1000"] Marvin also wrote lullabies...
Now the world has gone to bed, Darkness won't engulf my head, I can see by infrared, How I hate the night.
Now I lay me down to sleep, Try to count electric sheep, Sweet dream wishes you can keep, How I hate the night.
If by some freak of nature or because of a horrific laboratory accident you haven't yet seen the 2005 movie then do yourself a favour. I can watch it again at any time... I just love it. Narrated by
Stephen Fry
 and starring
Martn Freeman
,
Zooey Deshanel
and
Mos Def
, it's one of my all time favourite modern reimagining of a classic Sci Fi tale. Here is the trailer... [youtube id="MbGNcoB2Y4I" maxwidth="1000"] While it's hard to choose a favourite character in such a rich and fun filled tale, you can't imagine this story with out the depressing and pessimistic voice of Marvin keeping everyone's optimism in check. I will be publishing 15 robot profiles over the coming weeks. Feel free to share on social media (please link back to my site). Get in touch via
Twitter
,
Instagram
or by 
email
:) [su_button url="/my-work/pop-culture-robots/" background="#fc1581" size="5" icon="icon: plus-circle"]See ALL #PopCultureRobots[/su_button] [su_button url="/blog/pop-culture-robots-a-historical-study-robby-the-robot/" background="#fc1581" size="5" icon="icon: arrow-circle-right"]See the NEXT #PopCultureRobots[/su_button]