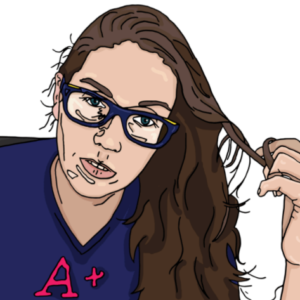 I am a Sydney based artist, illustrator, marketer and website developer. I know it's a lot of hats but I like to stay busy. It all comes down to telling stories. Whether it's with paint, a computer or with words… it's all about communication.
When it comes to my artwork, I enjoy a few mediums. Acrylic and watercolour paint speak to me and I also have a pension for pencils… they are my addiction. Digital drawing also floats my boat, there are so many options. I don't stick to one medium or style… I keep changing with time. I take commissions for portraits (pets and people), corporate illustration, custom sticker design… you name it, I enjoy making it.
Marketing is storytelling. I tell your story for public consumption. Whether it's an email campaign, creating digital assets for advertising, social media posts, logos and branding, company presentations and brochures or a curriculum vitae, I love making your stories beautiful.
For your website, I recommend WordPress – it's the best base to build your website or online store on. I love creating sleek and clean websites and shops that make it easy for people to find out what you're all about. I offer regular monthly maintenance of your site to keep it secure and I can publish your blog posts to make sure visitors keep coming back for more. I can create your content as well if you need it and while setting up your site I employ SEO best practice to maximise your site's performance once live.
I studied a Bachelor of Science at Sydney University, meaning I have a passion for all things science. In my mind, art does not verses science… art is science and science is art. They are so intertwined, you can't have one without the other.
My years of experience in the corporate world means that I understand the deadlines and constraints you have to work within. My creativity means I can usually find a way to make it work.
I am a passionate about equality and action on climate change. We have a lot of work to do to make the world a better place. I am on the board of Women for Election Australia, a not-for-profit organisation whose primary goal is to get more women into politics until we reach 50/50 representation… and stay there. I also built their website.
If you would like to speak to me, please fill in the form below.