#WhatILearntThisWeek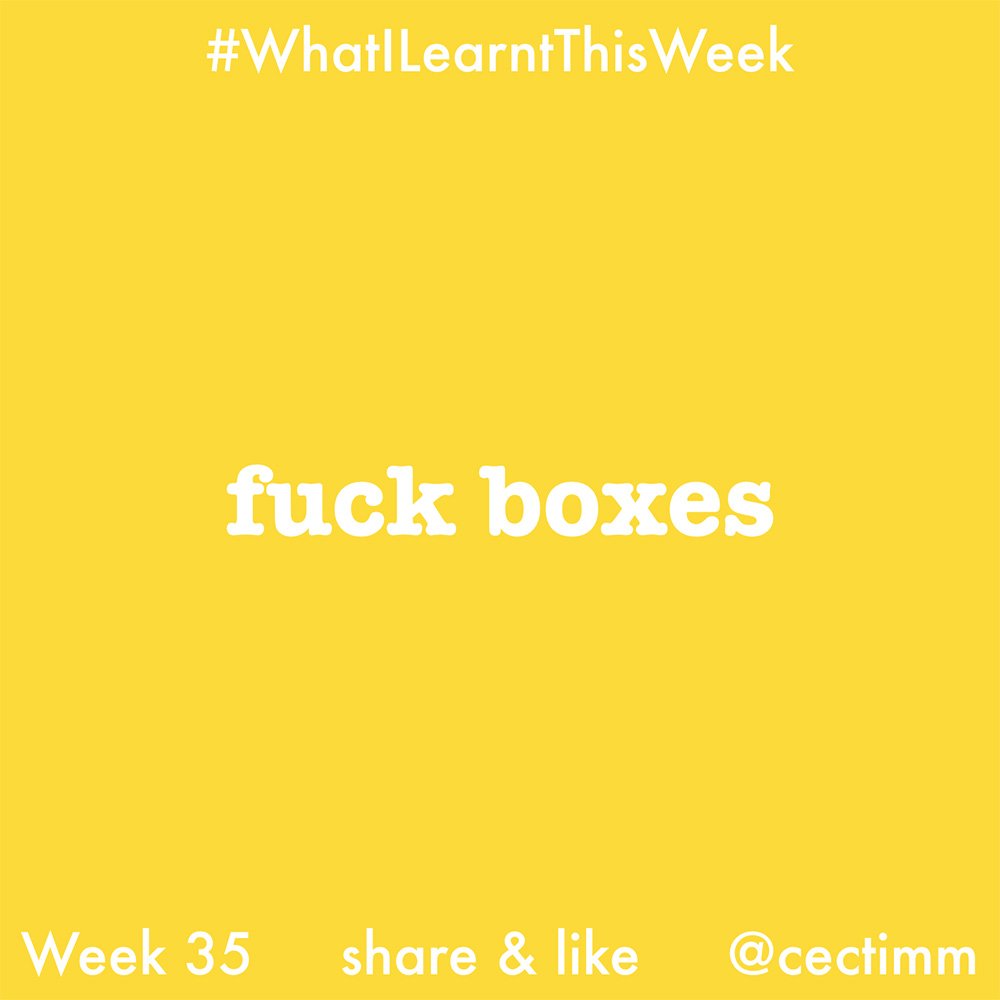 When someone tells me they still have a few boxes to tick in their lives I cringe. I hate the idea of a list of things you MUST accomplish in this lifetime to have been deemed successful in our society.
I once had a close friend tell me that they had ticked the career, kids, house and car boxes and that they were surprised they weren't happy. They thought that ticking arbitrary boxes was going to make her every dream came true. Unless your boxes are passion projects, ticking them off will NEVER make you happy.
Too often we spend time worrying about what we should be doing or achieving.  Surely there is some room in our busy 'should' filled lives to pursue the things that will really make us happy.
For me it's drawing + painting + writing + cooking + eating + catching up with friends + cuddling puppies + travelling. The day I decided I didn't have to get married or have a big career or drive a fancy car or keep up with the fucking Joneses was the most liberating day of my life. I decided to be happy right there and then despite what I had and hadn't achieved and an amazing thing happened… I started doing more – not because I had to tick a box but because I wanted to do it. I made more art, I made more time for friends, I laughed more and most importantly I was free and happy.
The next time you think you need to tick off a box to qualify as a grown up or keep up with someone else's expectations of you… fuck it. Fuck boxes and remember what Fleetwood Mac says 'you can go your own way'.
[su_youtube url="https://www.youtube.com/watch?v=6ul-cZyuYq4″ width="1000″]
[su_button url="/my-work/what-i-learnt-this-week-2016/" style="flat" background="#fc1581″ color="#ffffff" size="5″ icon="icon: plus-circle"]All 2016[/su_button] [su_button url="/blog/what-i-learnt-this-week-2016-week-36/" style="flat" background="#01d801″ color="#ffffff" size="5″ icon="icon: arrow-circle-right"]NEXT[/su_button] [su_button url="/my-work/what-i-learnt-this-week/" style="flat" background="#0097ff" color="#ffffff" size="5″ icon="icon: hand-o-left"]All 2015[/su_button]