#WhatILearntThisWeek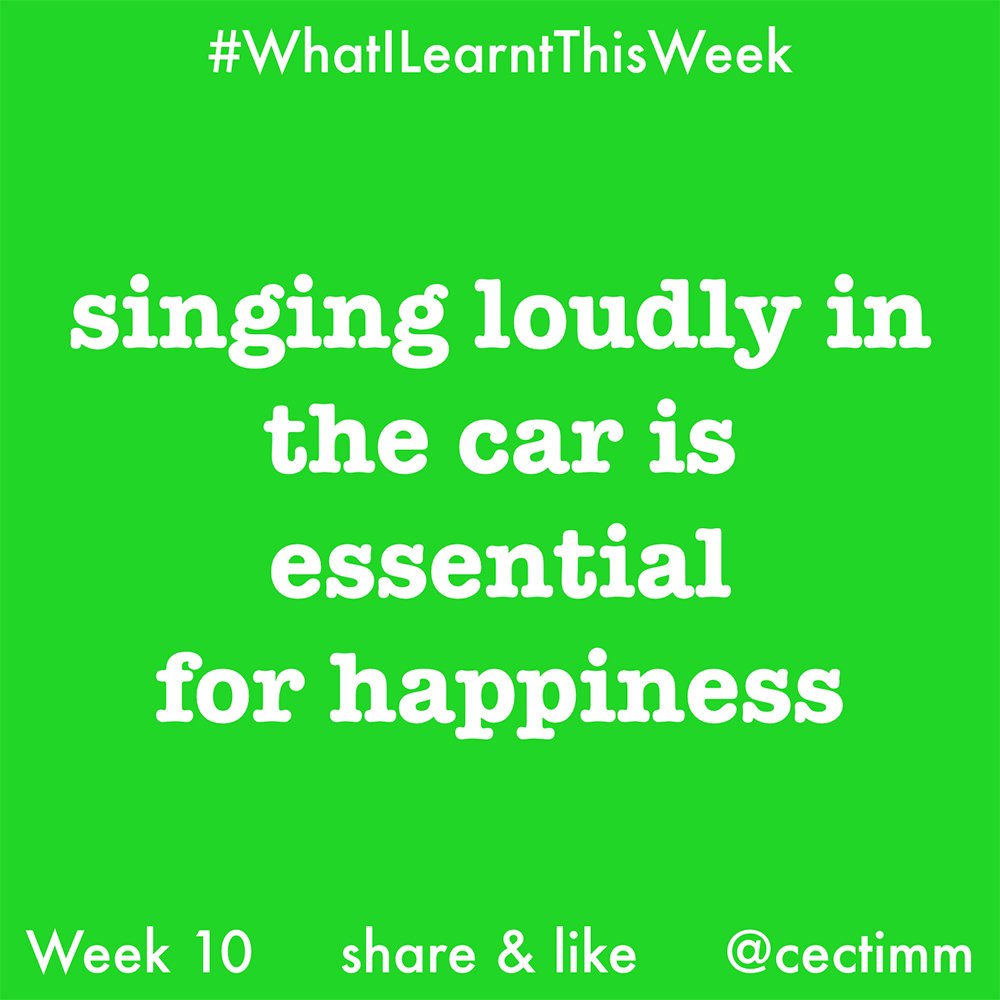 The battery in my car recently died and for 24 hours I couldn't figure out how to reset the radio. I don't drive a lot as I work form home but it wasn't until I was left sans radio that I realised how important singing in the car is to me.
Something happens when you're alone in the car and a 'sing-along' song comes on… this is a song that you know all of the words to and is in your range so you can sing it loud and proud. It's hugely satisfying, a great stress relief and good exercise for your lungs… but there is a letting go that happens (at least for me) that somehow cleanses me of my stresses.
Today I had the radio on 101.7 WSFM and Toto's Africa came on… this has to be one of the best 'sing-along' songs of all time. I really let go and sung my freaking heart out. Mid song I did become aware that while no one could hear me, they could see my enthusiastic and energetic performance including air drum solo… I decided not to give a fuck and kept going. By the end of the song I was practically out of breath and exhausted but felt bloody awesome.
It's a magic that is hard to replicate… so make sure that at least a few times a week you have a reason to be on your own in your car, find a daggy radio station that plays songs you know really well and let it rip… it's good for the soul (just keep your windows shut as you don't want to get arrested for noise pollution).
[youtube id="FTQbiNvZqaY&list=RDFTQbiNvZqaY" align="center" maxwidth="1000″]
Get in touch via Twitter, Instagram or by email 🙂
[su_button url="/my-work/what-i-learnt-this-week-2016/" style="flat" background="#fc1581″ color="#ffffff" size="5″ icon="icon: plus-circle"]All #WhatILearntThisWeek 2016[/su_button] [su_button url="/blog/what-i-learnt-this-week-2016-week-11/" style="flat" background="#01d801″ color="#ffffff" size="5″ icon="icon: arrow-circle-right"]Read the NEXT #WhatILearntThisWeek[/su_button]

[su_button url="/my-work/what-i-learnt-this-week/" style="flat" background="#0097ff" color="#ffffff" size="5″ icon="icon: hand-o-left"]See 2015's #WhatILearntThisWeek[/su_button]