#WhatILearntThisWeek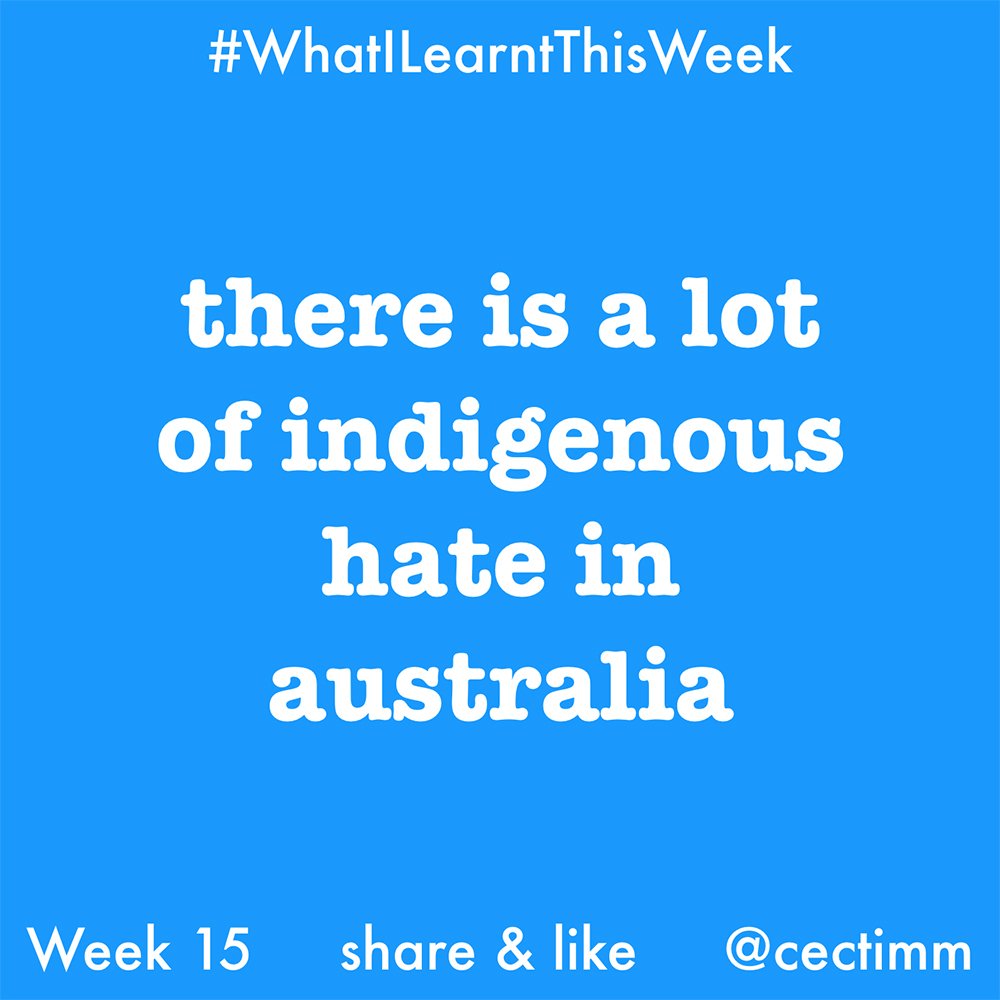 We all live in a bit of a bubble and can occasionally fall into a false sense of belief that all people are good and that racism isn't really a big problem. This happens to me from time to time, as I am a freelancer, mainly work from home and can be a bit of a homebody. This means that I can sometimes forget what the real world is like.
I was at the gym the other day and had a long chat with an older gentleman I hadn't seen for a while… after the compulsory catch up questions we got a bit political and I mentioned something about my distain for the current round of cuts our government are handing down. I ended my rant with something along the lines of "it seems they have no trouble paying retired politicians thousands of dollars a week in retirement benefits but struggle to justify services to indigenous Australian's who really need all they help they can get." I was greeted with a strange smirk I had not seen in a long time… he walked away and cracked up with two other older white gentlemen. They had a good chuckle at my expense and couldn't no believe that I thought indigenous Australian's were worthy of our government's attention.
I was shocked… miffed… surprised… disappointed…bemused!
With all of the controversy last year surrounding Adam Goodes, I was shocked at the outpouring of hatred towards him for standing up to racist slurs. Then late last year David Jones named Adam Goodes as an ambassador and again, I could not believe the disgusting comments that then surfaced on social media in response to the announcement.
It struck me that so many people came out to criticise Adam for showing emotion when speaking of how racism has affected him throughout his life (something that I think would be a bloody awful thing to have to deal with) but then when Mick Fanning cried openly on TV he was lauded as a hero for being man enough to cry. Don't get me wrong, I love them both but I was struck by the difference in public opinion to basically the same outpouring of emotion from two very strong manly men.
Why are people so uncomfortable or afraid of our indigenous culture? Do Aboriginal people make white Australian's feel uncomfortable about our dark past and murderous British ancestors (my ancestors are not British but I'm speaking of the Australian majority)? Are white middle aged Australian's so afraid of what might become of our first Australian's if they were given the same educational and career opportunities as their white kids? How does this threaten them? their jobs? or their status?
I have no answers this week… just a bunch of questions. I don't get it.
Get in touch via Twitter, Instagram or by email 🙂
[su_button url="/my-work/what-i-learnt-this-week-2016/" style="flat" background="#fc1581″ color="#ffffff" size="5″ icon="icon: plus-circle"]All 2016[/su_button] [su_button url="/blog/what-i-learnt-this-week-2016-week-16/" style="flat" background="#01d801″ color="#ffffff" size="5″ icon="icon: arrow-circle-right"]NEXT[/su_button] [su_button url="/my-work/what-i-learnt-this-week/" style="flat" background="#0097ff" color="#ffffff" size="5″ icon="icon: hand-o-left"]All 2015[/su_button]