#WhatILearntThisWeek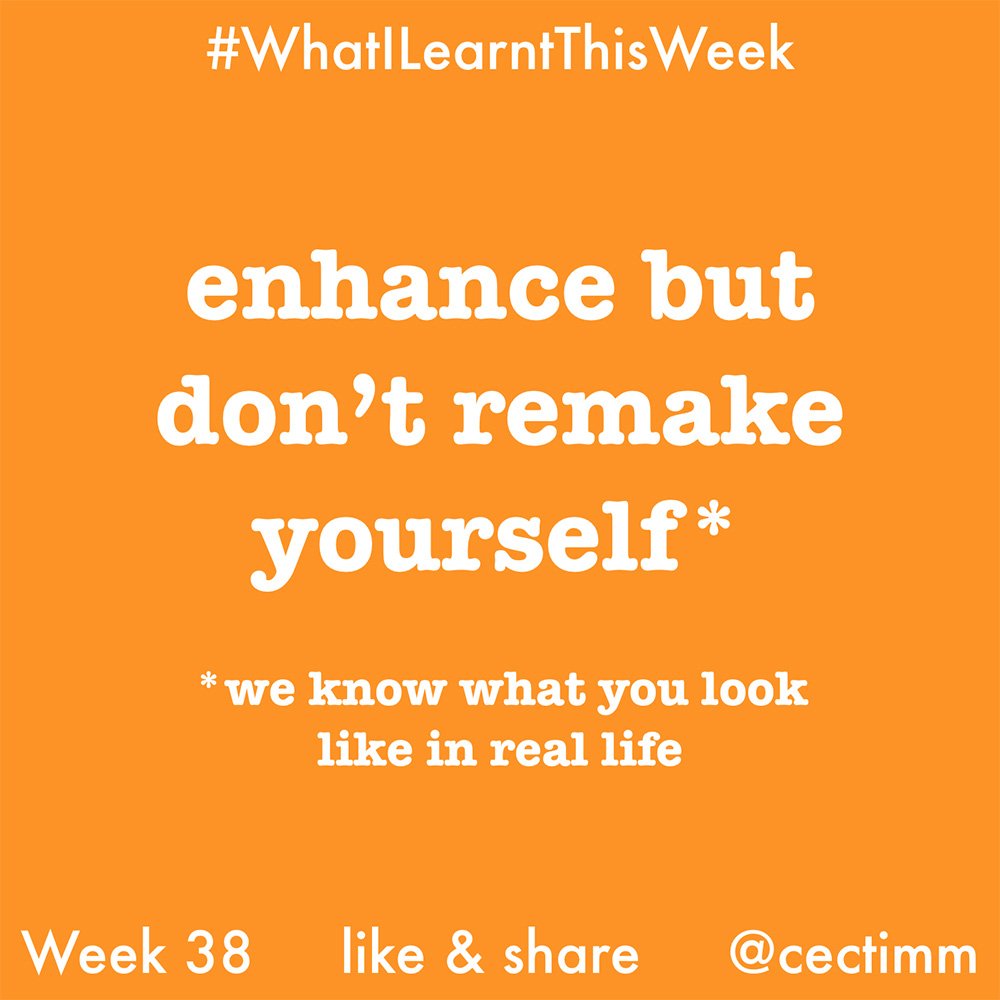 There seems to be a growing trend of misrepresenting how we look on social media. Let me explain.
You may have noticed some aliens popping up in your Facebook and Instragram feeds. It used to be that airbrushing was a tool used by advertisers and magazines but now there are apps that can airbrush you into oblivion.
I am all for looking your best and I do believe it is important to make an effort and put your best foot (or face) forward BUT, there is a HUGE difference between enhancing how you look and COMPLETELY REINVENTING yourself. Fashion magazines are designed to make women feel bad to make them buy products… it's an age old formula that sees women hating themselves for not looking like an airbrushed teenager who hasn't eaten a full meal in months. Now it seems we need to look like dolls to 'fit in' and I've noticed more and more people posting highly edited photos of themselves online.
Some people are almost unrecognisable and frankly it's disturbing. Do people hate themselves so much that they want to look like an alien? I don't.
I fully except that sometimes I look fat, I do have a few wrinkles and there are these little jowly bits that have recently appeared on my face (that I'm not too happy about) but that's how I look and it's who I am. Having said that I'm not a masochist – I don't choose the worst photo of me and post online… I still try to choose a nice one and if I don't have a photo I like then I won't post anything at all. I refuse to airbrush myself – I want to be me, not an edited me.
Put your best face forward but be yourself. Don't try to be something that you're not. Enhance yourself in real life – rather than making a remake in your phone.
Get in touch via Twitter, Instagram or by email 🙂
[su_youtube url="https://www.youtube.com/watch?v=zIIKTNPP5Ts" width="1600″]
[su_button url="/my-work/what-i-learnt-this-week-2016/" style="flat" background="#fc1581″ color="#ffffff" size="5″ icon="icon: plus-circle"]All 2016[/su_button] [su_button url="/blog/what-i-learnt-this-week-2016-week-39/" style="flat" background="#01d801″ color="#ffffff" size="5″ icon="icon: arrow-circle-right"]NEXT[/su_button] [su_button url="/my-work/what-i-learnt-this-week/" style="flat" background="#0097ff" color="#ffffff" size="5″ icon="icon: hand-o-left"]ALL 2015[/su_button]