#WhatILearntThisWeek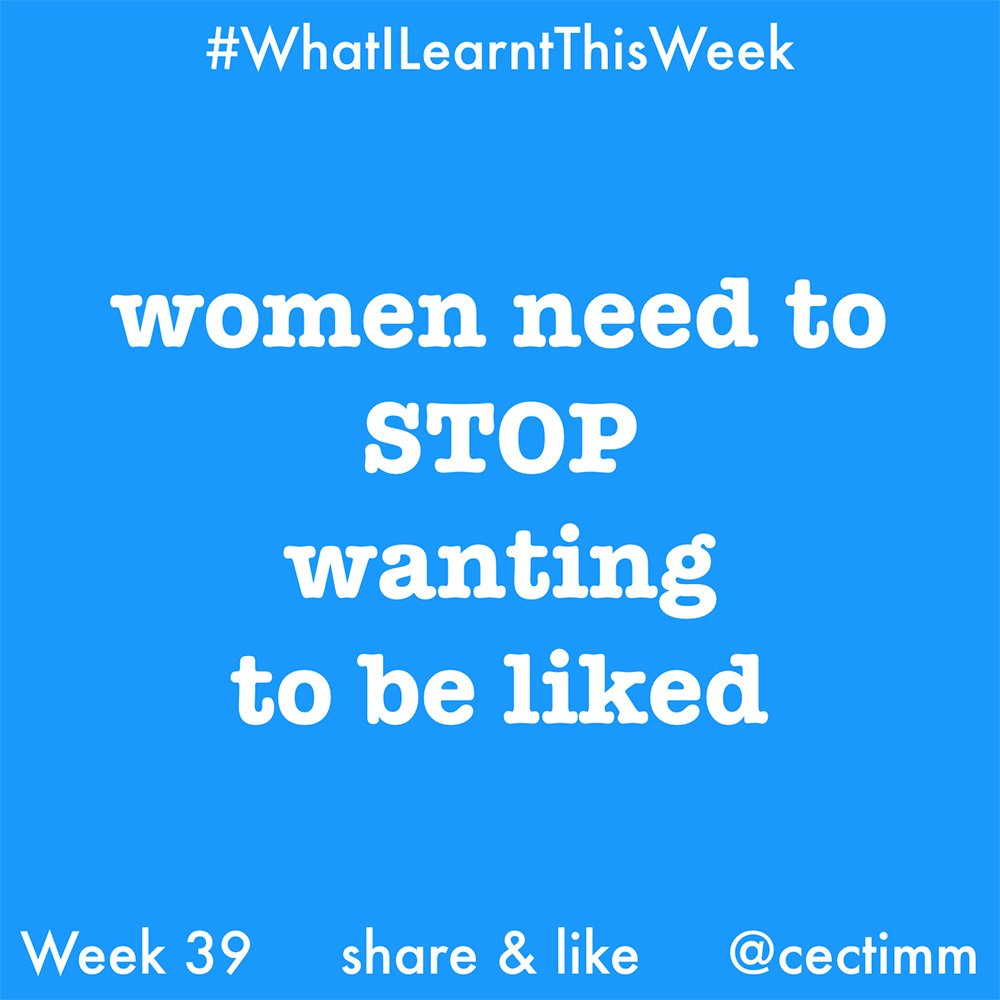 I think this is one of our greatest drawbacks ladies… I'm not sure when it all started but I've noticed that most women (and I'm including myself in this) want to be liked. It is one of our greatest weaknesses and it is holing us back.
Think about it… how many times have you wanted to send back a crappy cup of coffee, ask for a pay rise or stop seeing a friend you no longer like but you don't because you don't want to make waves, have a confrontation, make someone else feel bad or be seen as a bitch. It happens all the time.
Even though I'm keenly aware of this I still find confrontation difficult to deal with and I do my best to avoid it – that in itself is not a bad thing but if it comes at a cost of living with bad coffee, service or relationships it can become a problem.
Women want to be liked whereas men in general don't care as much – especially in an office environment. Women want to come across as nice and easy going and will take months or years to hint that they might like a pay rise. Most men will ask for a pay rise directly and often. I've seen it with my own eyes when I worked in HR. This results in men getting pay rises more often. Even when I did pluck up the courage to ask for a pay rise I was knocked back – however, I did realise that this did not stop blokes from asking again and again where as I felt like I couldn't ask again for a really long time. I guess I didn't want to seem demanding… who wants to come across as bossy and forward (blokes – that's who).
So ask yourself the question… do I really want to accept [insert something subpar here] or do I want to speak up and get what I really want. Do I really care if that person likes me? Why do I care if they like me? If I do care will they hate me for speaking up? Probably not.
Think about it the next time you're willing to live with less and ask for more… you never know, if you ask in a nice way maybe you'll get what you want and they'll still like you 😛
Get in touch via Twitter, Instagram or by email 🙂
[su_button url="/my-work/what-i-learnt-this-week-2016/" style="flat" background="#fc1581″ color="#ffffff" size="5″ icon="icon: plus-circle"]All 2016[/su_button] [su_button url="/blog/what-i-learnt-this-week-2016-week-40/" style="flat" background="#01d801″ color="#ffffff" size="5″ icon="icon: arrow-circle-right"]NEXT[/su_button] [su_button url="/my-work/what-i-learnt-this-week/" style="flat" background="#0097ff" color="#ffffff" size="5″ icon="icon: hand-o-left"]ALL 2015[/su_button]