#WhatILearntThisWeek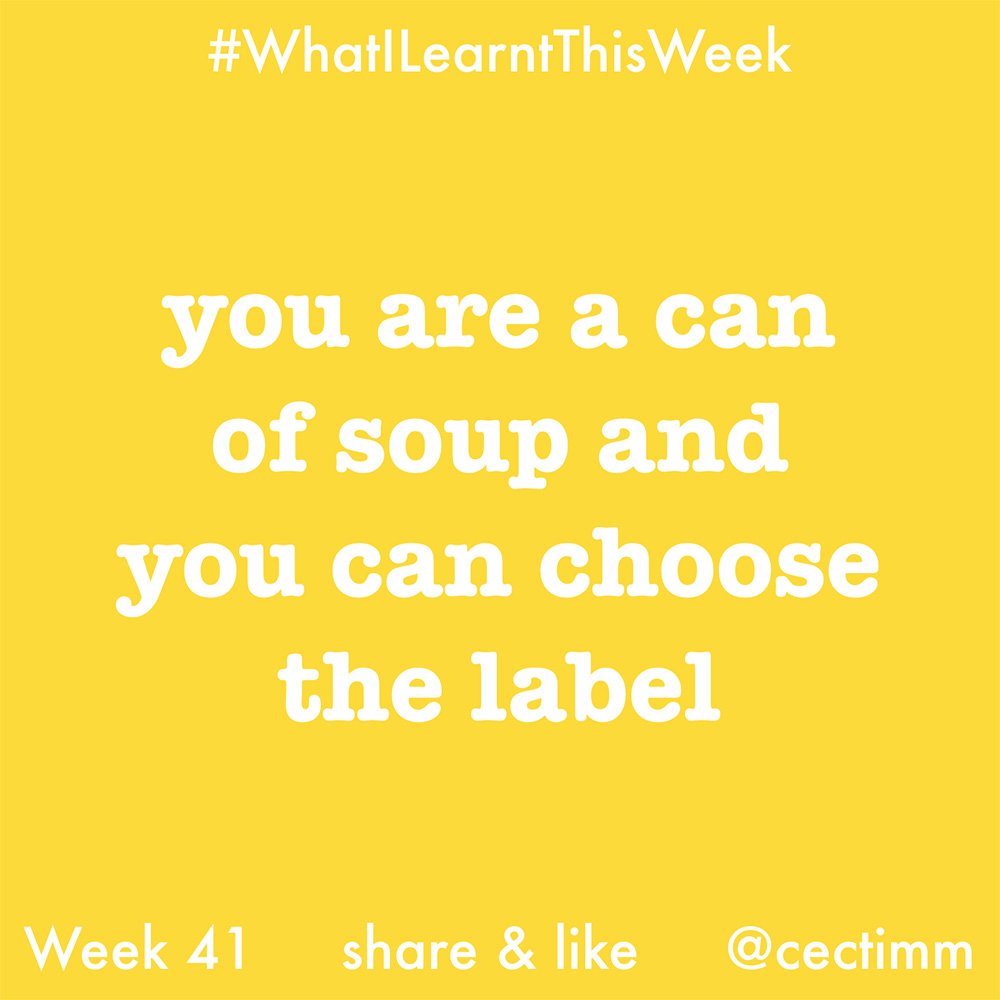 We spend a lot of our lives being what we think others think we should be. Pause for a second… yes that was a convoluted sentence but then again this is a convoluted issue.
Andy Warhol's beautiful images of cans of soup changed the worlds ideas about modern life and art. I do wonder if he was trying to say something more with those cans of soup. We are all cans of soup… we all have different contents but it's up to us to choose our own label. Some people are perfectly content with the label that has been assigned to them, while others will rebel and change their label. At the end of the day… it's up to us.
This can refer to the way you wear your hair, the clothes you wear, the career you choose to pursue, your sexuality, gender identity, where you live and who you choose to be friends with. It can apply to any part of your life that you choose… just make sure that you choose. You have the right to keep or change your own label. Many people are perfectly happy with the label that has been assigned to them and that is not a problem at all but some people may need to change their label… a little or a lot. It's important to ask yourself the question, what do I want to be and how do I want to live?
When I was at uni I gave myself permission to be something other than what I'd always been… after much pondering I settled on just being exactly who I was which hasn't changed much since. I think it was important that I gave myself permission to be whatever I felt I should be.
While you're at it don't put a label on someone else, let them be who they want to be. Just make sure that you are perfectly happy with your label… chose your OWN label and wear it proudly.
Get in touch via Twitter, Instagram or by email 🙂
[su_button url="/my-work/what-i-learnt-this-week-2016/" style="flat" background="#fc1581″ color="#ffffff" size="5″ icon="icon: plus-circle"]All 2016[/su_button] [su_button url="/blog/what-i-learnt-this-week-2016-week-42/" style="flat" background="#01d801″ color="#ffffff" size="5″ icon="icon: arrow-circle-right"]NEXT[/su_button] [su_button url="/my-work/what-i-learnt-this-week/" style="flat" background="#0097ff" color="#ffffff" size="5″ icon="icon: hand-o-left"]ALL 2015[/su_button]