#WhatILearntThisWeek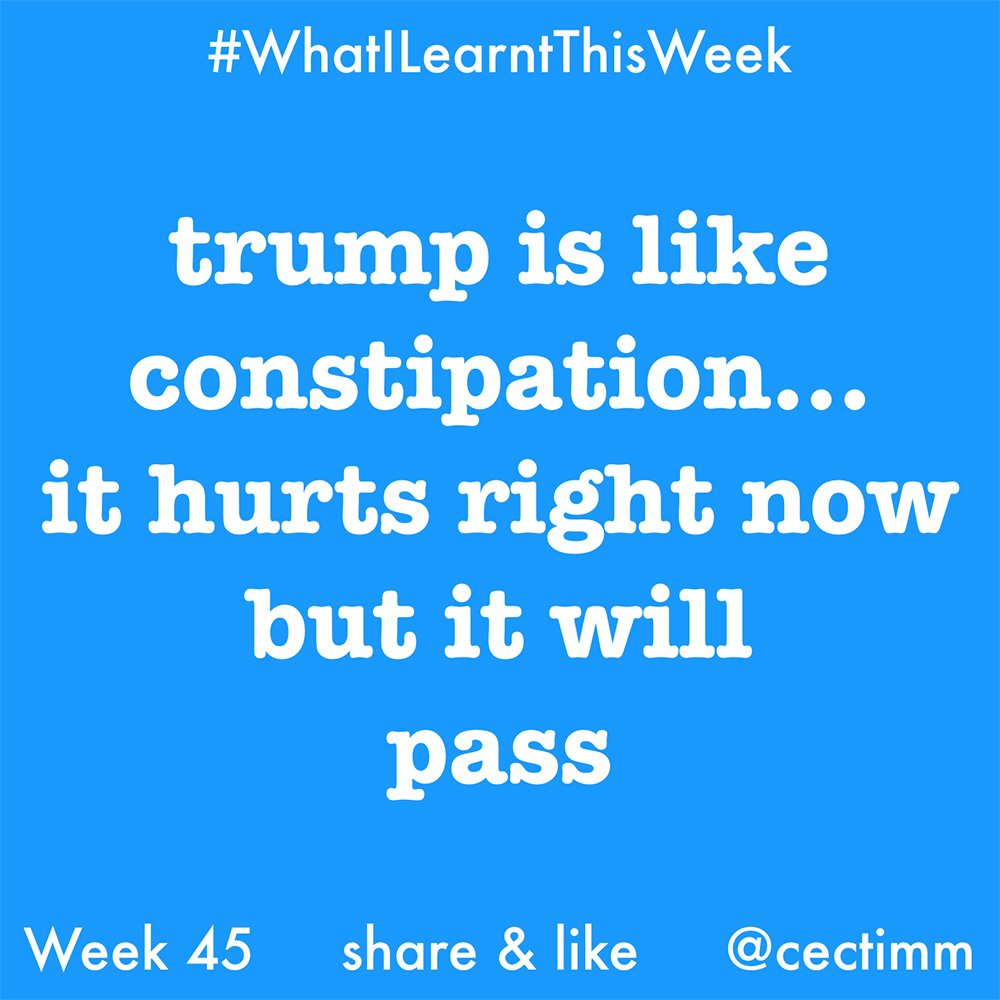 A lot has been said in disbelief and anger since the recent US Presidential Election! It has to be one of the biggest blindsides of 2016 – outside of Flick voting off Brook on Survivor Australia.
Some weeks has now passed and while I still can't watch the man on TV (can't look at him), I have taken the time to put it into perspective and I do believe it's going to be ok.
While Trump is currently on his best behavior, there are limitations to what he can do and achieve. While he is in a position of immense power there are safety nets and potential blocks in his way. While he is at the helm he can effect negative change on America (and the world) but he won't be in power forever. This too shall pass.
I've come to the conclusion that Trump is like constipation… it hurts right now, but it will pass. Sometimes we have to endure terrible terrible things but eventually they make us stronger. What doesn't kill you…
It's not yet time to enlist for SpaceX's Mars mission… let's try to be the laxative the world needs and soften things up with love, acceptance and inclusion. Let's be anti-Trumps and flush out the negative sentiment that has recently risen to the surface.
Unfortunately, many bigots feel empowered by his victory. We have seen many horrible examples in recent weeks… I won't bother listing them. It's up to the rest of us to show them the way… the softer, gentler and kinder way. We are the ford pills to his hatred and his 'reign' will make us all stronger.
Get in touch via Twitter, Instagram or by email 🙂
[su_button url="/my-work/what-i-learnt-this-week-2016/" style="flat" background="#fc1581″ color="#ffffff" size="5″ icon="icon: plus-circle"]All 2016[/su_button] [su_button url="/blog/what-i-learnt-this-week-2016-week-46/" style="flat" background="#01d801″ color="#ffffff" size="5″ icon="icon: arrow-circle-right"]NEXT[/su_button] [su_button url="/my-work/what-i-learnt-this-week/" style="flat" background="#0097ff" color="#ffffff" size="5″ icon="icon: hand-o-left"]ALL 2015[/su_button]