#WhatILearntThisWeek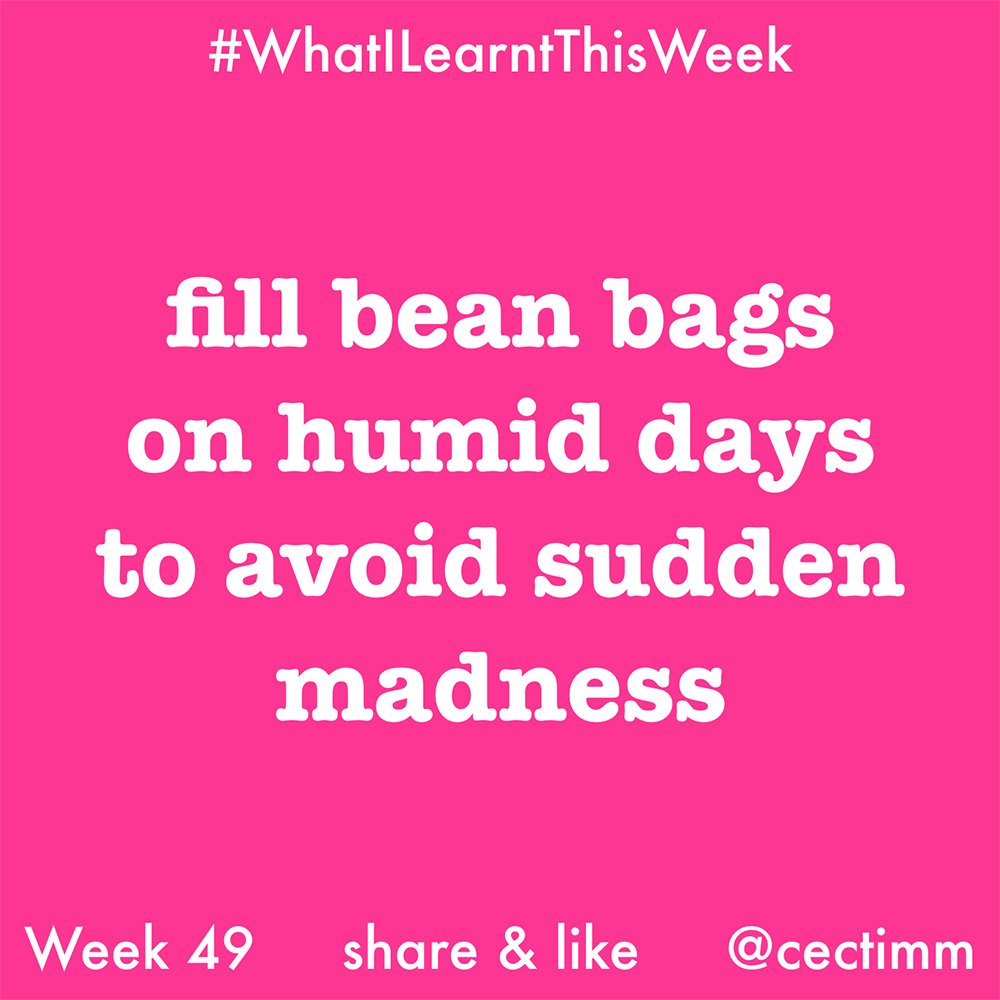 My mum recently bought my niece a bean bag for Christmas… it was a really nice one and it was for her to have a comfy spot to read in her bedroom. So of course we had to fill it. We had been warned about the difficulties of filling up a bean bag and how the beans have a mind of their own. I took these cautionary tales as a challenge and decided that I was going to be the best bean bag filler upper of ALL TIME.
Mum and I bought the recommended 2 large bags of bean bag beans and set about filling the lining bag. We were so cautious, cutting only a small slit in the plastic bag of bean bag beans. Mum kept the mouth of the lining bag tight around the emptying bag and like the world class champions that we are we managed to empty two massive beans into the bag only spilling one bean. I REPETE, JUST THE ONE BEAN. I know… it is miraculous.
Disappointingly, the bag was not full enough and a few days later I bought some more beans to top up the bag.
This time when we went to fill up the lining bag it was a different story. Despite using the same technique we failed miserably. The beans crept up the lining bag… we were watching them try to escape and there was NOTHING we could do about it. They seemed to have a mind of their own. Beans were flying out in every direction. The dogs came running into the room to chase the beans and we had to yell at them to get out of the room. We were covered in beans, the bean bag was covered in beans (on the outside) and the room was covered in beans.
We had done nothing differently… but what had gone wrong? We had not taken into account the weather. The first time we had so successfully emptied two bags without incident, it was raining heavily and the hair was thick with humidity. This second time the day was incredibly dry and the beans seemed to take advantage of the static electricity, using it to creep out of any available opening… making a break for freedom.
So there it is… regardless of your skill level or tried and tested techniques… try to only fill bean bags on humid days and avoid sudden madness 😛
Get in touch via Twitter, Instagram or by email 🙂
[su_button url="/my-work/what-i-learnt-this-week-2016/" style="flat" background="#fc1581″ color="#ffffff" size="5″ icon="icon: plus-circle"]All 2016[/su_button] [su_button url="/blog/what-i-learnt-this-week-2016-week-50/" style="flat" background="#01d801″ color="#ffffff" size="5″ icon="icon: arrow-circle-right"]NEXT[/su_button] [su_button url="/my-work/what-i-learnt-this-week/" style="flat" background="#0097ff" color="#ffffff" size="5″ icon="icon: hand-o-left"]ALL 2015[/su_button]