#WhatILearntThisWeek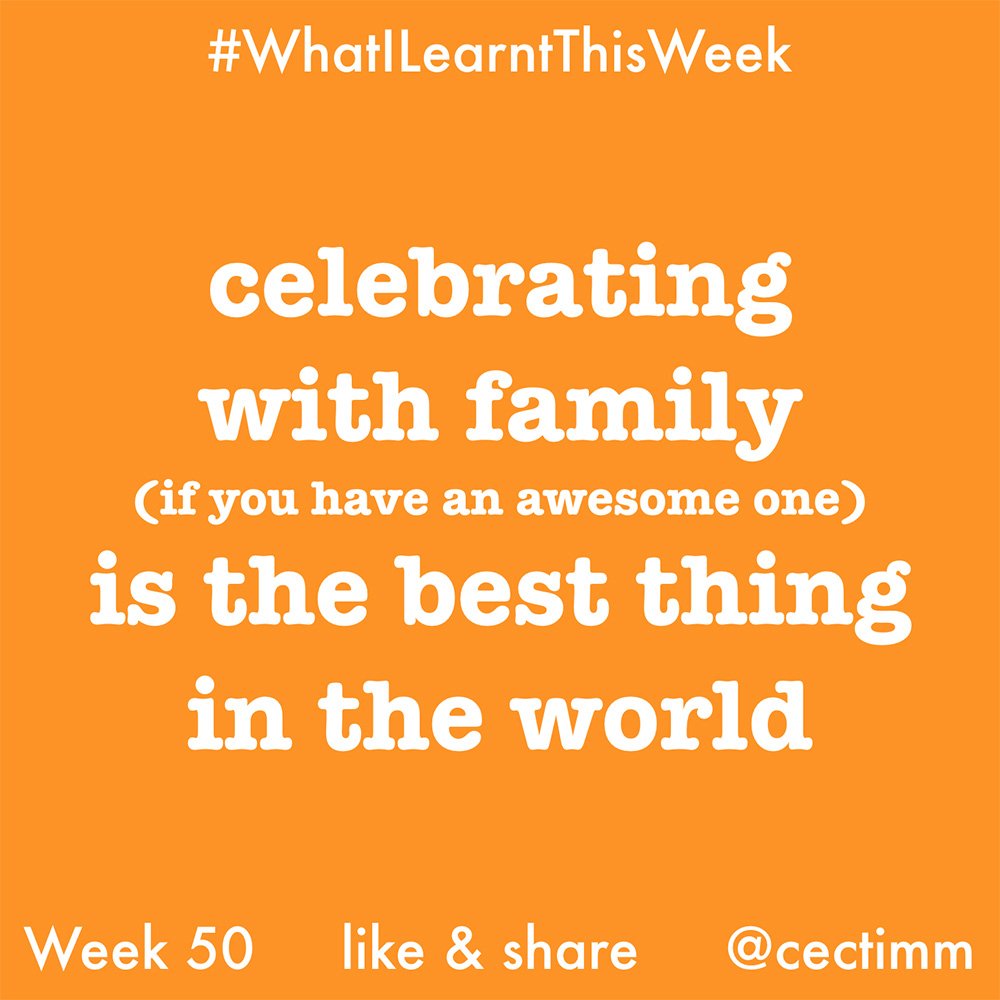 Christmas is either a wonderful or terrible time for people… a lot of this depends on their family and past experiences.
I am very lucky… I have an amazing family and we are all on the same page when it comes to Christmas. We all work hard to make it a very VERY fun and special celebration. We trim our trees together, we prepare the food together, we decorate the house together and we give very generously to each other. A lot of hard work results in an amazing few days where we celebrate our love for each other.
I know this is not true for a lot of people. This kind of joy depends on all parties coming to the table with the right attitude and this is often not the case. Most families have at least one drama queen that wrecks Christmas for everyone… luckily we no longer have drama queens in our family unit. Some people work very hard to have a great Christmas and there is usually some arse hat that tries to wreck it for everyone.
I also love the days between Christmas and New Year when we don't know what day it is and we can survive on left overs and chocolate. It is one of my favorite times of the year. I love getting bored with my family and friends. I don't see boredom as a bad thing… I mean that you spend enough time together that you end up playing cards, or bingo or go for another swim. It's not about answering the phone, checking text messages, answering work emails, checking bank account balances… by now I'm ignoring my phone, only texting good mates, not answering any emails and I know my bank accounts are empty so it's all good 😛
Christmas 2016 has ended up being another great triumph in the life of Team Bonnet Bay… we work hard together and we party hard together. I wish everyone could have such an amazing family… I know how lucky I am.
Get in touch via Twitter, Instagram or by email 🙂
[su_button url="/my-work/what-i-learnt-this-week-2016/" style="flat" background="#fc1581″ color="#ffffff" size="5″ icon="icon: plus-circle"]All 2016[/su_button] [su_button url="/blog/what-i-learnt-this-week-2016-week-51/" style="flat" background="#01d801″ color="#ffffff" size="5″ icon="icon: arrow-circle-right"]NEXT[/su_button] [su_button url="/my-work/what-i-learnt-this-week/" style="flat" background="#0097ff" color="#ffffff" size="5″ icon="icon: hand-o-left"]ALL 2015[/su_button]