#WhatILearntThisWeek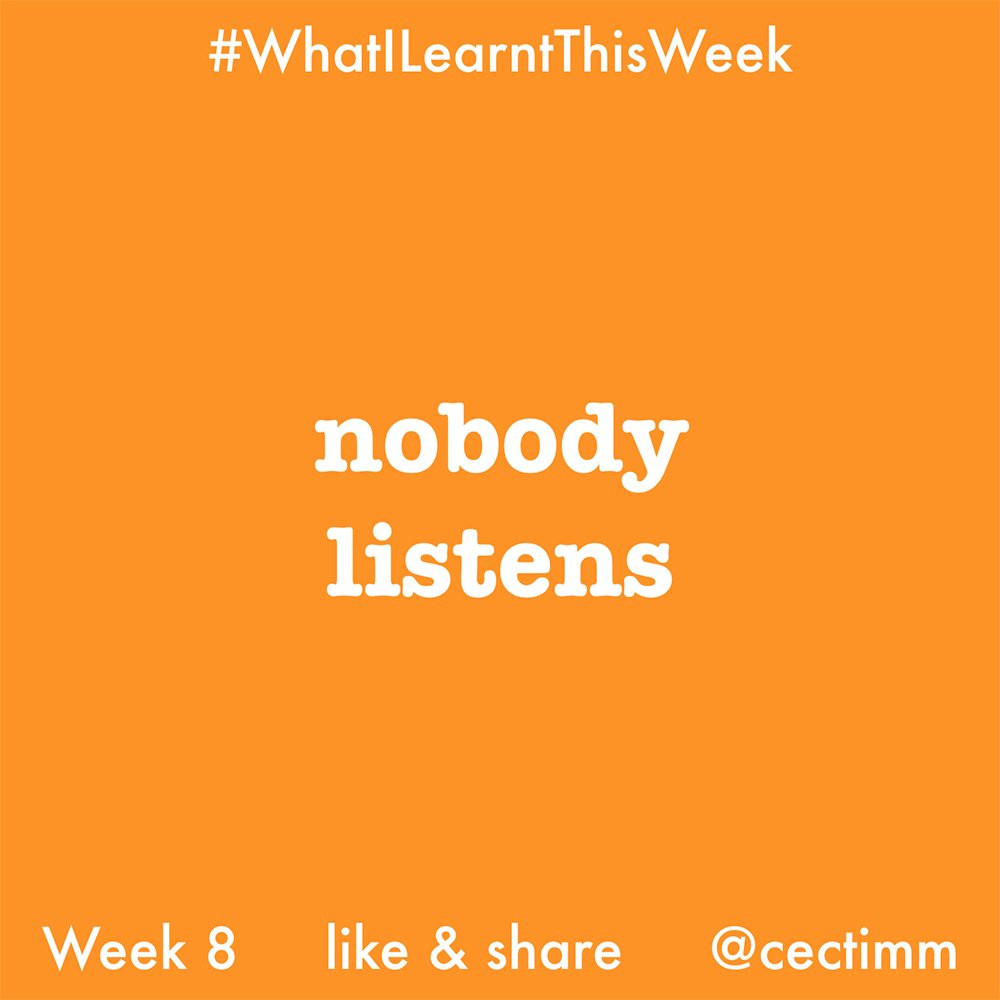 Have you noticed that nobody is listening? You probably haven't, as you're too busy talking.
There has been a fundamental shift in our collective attention spans as we are constantly bombarded with images, text and sounds from every angle. There are so many things competing for our attention that we have forgotten how to have a conversation.

Notice in use of the world 'exchanged' in the definition of conversation. It indicates that the talking is two way… not a monologue.
I have partaken in a lot of monologues lately and I'm not the one doing all the monologuing. I keep getting talked at more and more. I have finished 3o minute phone calls and realised that I contributed nothing (not for lack of trying). I have caught up with friends to only later realise that after the compulsory 'how are you going' greeting there was no discussion of my life, my dreams, my views or me. . Am I doing something wrong? Are people using mates as free therapy? Can we please go back to a two-way discussion?
The next time you have a chat with someone just sit back and observe what is going on. Are you overrunning the conversation and not letting anyone else chime in? Or are not getting a word in? Whichever one you are, something has to change.
Maybe you could be direct and let your friends or family know that you desire conversation and not to be talked at. Or maybe you can make a point of stopping your mouth for a moment and letting someone else fill the space with noise. There is a lot to be gained from good conversation. We can learn from our friend's points of view… even if we don't agree with them.
Try to have a conversation today… an exchange of ideas. You might enjoy it!
Get in touch via Twitter, Instagram or by email 🙂
[su_button url="/my-work/what-i-learnt-this-week-2016/" style="flat" background="#fc1581″ color="#ffffff" size="5″ icon="icon: plus-circle"]All #WhatILearntThisWeek 2016[/su_button] [su_button url="/blog/what-i-learnt-this-week-2016-week-9/" style="flat" background="#01d801″ color="#ffffff" size="5″ icon="icon: arrow-circle-right"]Read the NEXT #WhatILearntThisWeek[/su_button]

[su_button url="/my-work/what-i-learnt-this-week/" style="flat" background="#0097ff" color="#ffffff" size="5″ icon="icon: hand-o-left"]See 2015's #WhatILearntThisWeek[/su_button]